Troops 26, 27 & 28
The Concho Valley Council sent three troops to the first Boy Scout National Jamboree in 1937, one of which was the Cowboy Band from Iraan. Seventy-three Scouts and ten leaders went to the Jamboree, traveling by train from San Angelo. The Jamboree cost each Scout $75.25 and they could make a reservation with a $5.00 deposit. Go HERE for list of those who attended the Jamboree from the council.
Each Troop Had Its Own Unique Gateway
Each troop had their own unique entrance to their campsite. Troop 28 used a cattle guard gate with a sheep skin stretched overhead with the name of the council and their troop number. Troop 27 used an oil derrick with a large sign made of oil rig material telling the town, troop and council.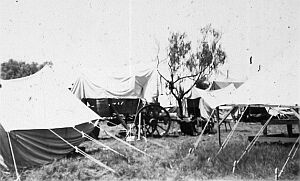 Troop 26 used a bumper gate entrance and had their troop number and council name branded into the top cross piece. Different West Texas cattle brands were branded on the gate. This troop also had a chuck wagon by the side of an old mesquite tree inside their camp area. The tree was carried to Washington by the Scouts and planted in their site. Around the wagon they had saddles, branding irons, cattle skulls, cactus, cooking equipment and other equipment related to a ranch scene. The first day the camp was set up, the A. P. photographers made several pictures of the scene. Pictures of the scene were carried in a large number of newspapers in the East and Southeast. One Arizona paper had carried the picture. The Fort Worth paper carried several pictures of the Scouts and one of the Iraan band made while on their way to Washington.
Jamboree Leaders
The three troops were numbered 26, 27, 28. Leaders of the troops were as follows: Scoutmaster - Vern Brownlee, Scoutmaster of Troop 49, Iraan; John E. Robbins, Jr., Scoutmaster of Troop 3, San Angelo; and C. N. Marsh, Chairman of Troop 83 Committee, Uvalde. Assistant Scoutmasters - James K. Biggs, Troop 49, Iraan; Melvin Orman, Troop 49, Iraan; J. B. Morris, Troop 55, Texon; Marvin H. Carr, Troop 17, Sherwood; Doyle Maddux, Troop 9, San Angelo; Ben Hill Ogden, Troop 23, Brady; Bruce Ivey, Troop 96, Crystal City; R. L. Bell, Troop 56, Rankin.Waldo Fletcher, Scoutmaster of Troop 52, Bronte, served on the service troop and Dr. J. T. Spratt served as a Jamboree doctor. Jack Nonce, Iraan and N. N. Bourland, San Angelo, served as Band Directors.
Toured Washington, D.C.
Their train trip took them through St. Louis and on to Washington, D. C. They arrived three days before the Jamboree actually started and this gave them time to tour Washington, D.C. They visited the Washington Monument, the White House, Supreme Court, Mt. Vernon, Smithsonian Institute, Library of Congress, Arlington Cemetery, Lincoln Memorial and all the Government Department Buildings.
Cowboy Band Was Featured At 1937 Jamboree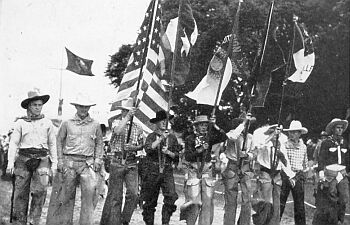 Jamboree Troop 27 was the Cowboy Band. The band was selected as the official band of Region 9 and also Region 8. Twenty-three boys from Iraan went to the Jamboree and there were six Scouts from neighboring communities in the band. A picture of the band was published in THE JAMBOREE JOURNAL on July 8, 1937. A story also appeared in the SAN ANGELO STANDARD TIMES on June 6, 1937, telling about the band escorting Dan Beard to his hotel. The band wore cowboy boots, chaps, spurs, colored shirts and ten gallon hats. They played for James E. West, Chief Scout Executive, and broadcast from a National hookup on the Jamboree Circus program of Region 8 and 9 for over two hours and then walked some three miles back to their camp.

Troop 27 - Iraan Boy Scout Cowboy Band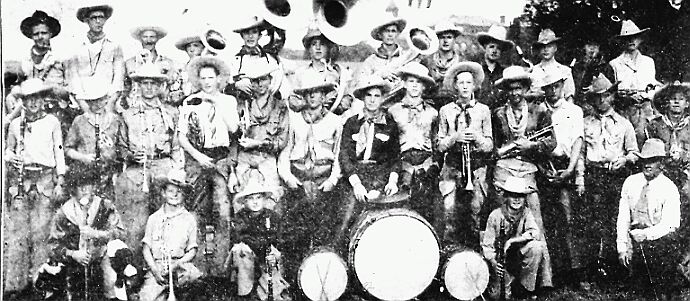 Top Row LtoR: Glen "Doc" Jones, Saxophone; Wilson Joiner, Saxophone; J. D. Carr, Trombone; Bryan Cooney, Baritone; Clarence Holcome, Bass; Robert Patterson, Bass; Ross Covey, Baritone; Jimmie Rigsbee, French Horn; Jack McFarland, Saxophone; W. A. Montgomery, Saxophone; Tom Hogan, Bassoon; Jones Webb, Trumpet
Middle Row LtoR: Luther B. Stover, Clarinet; Ed Earl Hebison, Clarinet; R. C. Calk, Clarinet & Drum Major; E. W. Sutton, French Horn; Raymond Warner, French Horn; Edwin Shadle, Drum; Robert ivy, Drum; Norman Montgomery, Drum; J. lB. Copeland, Cornet; Lewis Blackburn, Cornet; Reginald Cook, Cornet; Keith Anderson, Cornet; Eudell Copeland, Clarinet
Bottom Row LtoR: Jack Baggett, Drum Major; Jolly Johnson, Cornet; Oliver Barnes, Clarinet; Winston Holcomb, Clarinet; Jacque Nonce, Band Director
Dan Beard Lights Opening Campfire
by A. Y. Tillman, Jr.
(Note: Taken from the West Texas Scout News, Tuesday, August 3, 1937)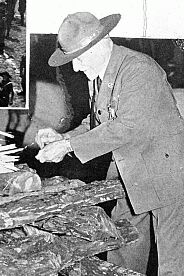 "In a specially constructed arena at the very foot of the Washington Monument Boy Scout from all parts of the world staged shows during the Jamboree. The first of these was the opening camp-fire, attended by twenty-six thousand Scouts. The ceremony which took place was very impressive. National Scout Commissioner Daniel Carter Bear, lighted a campfire with flint and steel from which thirty Scouts dressed as Indians lighted torches and gave an Indian dance. Also fire was taken from it to be taken to Holland to burn through the World Jamboree at Vogelenzang. The hugh audience was addressed by many notables including "Uncle" Dan Beard, Chief Scout Executive James E. West, and Attorney General Homer S. Cummings. Messages were read from President Franklin D. Roosevelt and Lord Baden Powell, chief Scout of the world.
"Regions three and four gave the first of a series of pageants depicting the Cavalcade of Scouting. These pageants were not only colorful and interesting, but also educational as each gave some of the history of its particular part of the country. In one of these pageants, Scout from 24 different countries marches by the platform and dipped the colors of their respective countries to James E. West.
"Regions eight and nine from Colorado, Iowa, Kansas, Missouri, Nebraska, Wyoming, Oklahoma, Texas and New Mexico staged a pageant on July seventh in which a wagon train was attacked by a band of Indians who were in turn driven off by whip-cracking and rope-spinning cowboys. A storm swept the settlers at one time and the Boy Scouts rushed to the rescue with their knowledge of first aid. One of the features of the display was a flying trapeze act by a Texas man and his three sons.
"All in all, I think enough cannot be said in behalf of the Jamboree Arena displays."
Scout Tells of 1937 Jamboree Experiences
"Oh, Carry Me Back" to Washington, Says Mathis
by Harry P. Mathis, Jr.
(Note: Taken from the West Texas Scout News, Tuesday, August 3, 1937)
"Oh, carry me back to' the Jamboree with all its pleasant experiences of world-wide Scouting. It was a never before qualified experienced in my life. I am unable to describe adequately the camp and all its memorable events.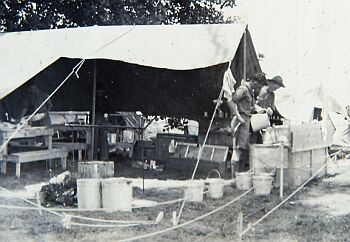 "As Napoleon said, "an army travels on its stomach," likewise this army of boys invaded the city of Washington on the food prepared by the able staff of camp chefs. This food was served in heater stacks, one for each troop. At meal time each troop sent its K. P. Patrol to the mess tent to receive its supply of food for the daily meal - and what a meal - my mouth waters as the recollection of that kingly repast set before us, the roast with the gravy-smothered potatoes, with choice of drinks, followed by a delicious dessert. This was but a sample of the meals set before us. The other meals were equally satisfying.
"The boys of each troop had ample opportunity to express the color of their locality. The boys of Troop 28, my troop, converted their plot of land into their conception of a sheep camp. The whole campsite was fenced by barbed wire strung on cedar posts. On this fence were hung tin cans, partly filled with pebbles, which are used to frighten coyotes away from the sheep.
"Branding irons, saddles, ships, ropes, and chaps completed the picture of the sheep camp. the Branding irons were of special interest to all the visitors . . . some wanted to know what anyone wanted with those twisted pieces of iron. The rustic gate was the outstanding feature of the camp with its branded sheepskin identifying the troop. All had to pass through the gate over a cattle guard of the type used to keep sheep in the pasture and at the same time allowing vehicles to pass without having to open a gate.
"In Troop 26 the chuck wagon caught my interest. It was brought in sections and assembled there on the spot by the boys of the troop. It was a chuck wagon typical of those used by all the ranchers . . . an old wooden wagon topped with canvas, with the chuck box perched on the rear. The box was covered with many historic brands of the Southwest. Many a story could be told about the founding and establishment of the ranches represented by those brands. I only wish time and space permitted me to tell some those interesting yarns.
"All this brings back clearly to my mind a never-to-be-forgotten-trip with all my Scouting pals. I'm eagerly looking forward to that time when the good word will come that another National Jamboree is to be held."
By Marvin H. Carr
Click on the heading above to read the eleven letters that Assistant Scoutmaster Marvin H. Carr mailed home to his wife and two daughters about his experiences while attending the 1937 National Jamboree with Jamboree Troop 26.
Jamboree Reunion Held in 1983 for 1937 Jamboree Scouts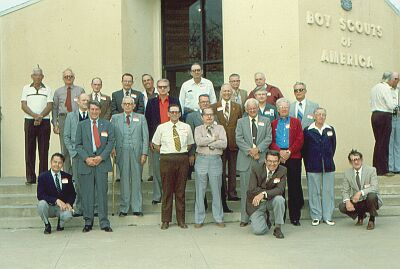 A reunion of 47 Scouts who attended the Jamboree in 1937 has held as part of the Council Annual Banquet on March 5, 1983. Of the 26 boys and leaders assigned to Troop 27, five were deceased, and all except four of the remaining attended the reunion. Most of the Scouts had not seen each other since they went off to World War II. A picture was taken of the band in front of the Council Service Center with each member standing in the same position as when the photo of the band was taken at the Jamboree.

One of the Scouts showed up with his complete Boy Scout uniform from the Jamboree and another showed the group an 8 mm movie he had made at the Jamboree showing President Roosevelt passing by in an open car at the Jamboree.

The original Jamboree was scheduled to be held in 1935 but had to be canceled because of polio. More than 27,000 Scouts and leaders participated in the 1937 Jamboree, including some 400 Scouts from other countries. Some 536 Boy Scout Councils were represented. The camp lasted ten days, from June 30 to July 9, and was held in the shadow of the Washington monument. Time Magazine issue of July 12, 1937 had this to say about the Jamboree.

"But last week the U. S. saw and heard more than 25,000 boys invade the city of Washington. Their tent cities spread beneath the Washington Monument, over Potomac Park both north and south of the Tidal Basin, across the river on Columbia Island and into the fields below Arlington National Cemetery on the Virginia shore. Everywhere bare-kneed youngsters in khaki perambulated through the streets with cameras and autograph books.

"Everywhere rose a babel of youthful voices, in childish versions of the accents of Maine and California, of Wisconsin and Texas. No connoisseur of mob scenes had ever seen such a sight; never before had the Boy Scouts of America held a National Jamboree.

"For a whole day Washington's Union Station was bedlam as troops of grinning boys in uniform piled off trains accompanied by young Scout Masters. Busses hustled them out to the river front parks where cooking, dining, administration tents and innumerable little wooden comfort stations had already been erected. The arrivals scattered over 350 acres, erected bright-colored tents for themselves, pounded tent pegs and fingers. At 8:45 next morning a trench mortar boomed and 25,000 Boy Scouts stood at attention. It boomed again and the flags of 52 nations rose in an avenue of flags beneath the Washington Monument. It boomed a third time, up went 1,634 flags to 1,634 mastheads throughout the encampment. The ten-day Jamboree had opened.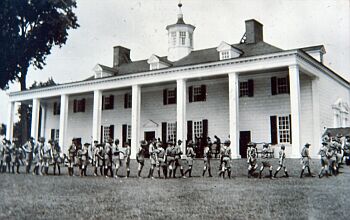 "Every morning and afternoon there were optional sightseeing expeditions! to the Capitol, Mt. Vernon, Arlington etc. etc. Scouts swarmed through Washington buying films for their perpetual photographing. On six nights there were "arena displays' given at the foot of the Washington Monument by Scouts of two regions (there are twelve in the U. S.). One afternoon there was a Sea Scout regatta, one evening a fireworks display. But more fascinating than spectacles, drills or speeches by oldsters about Scout ideals was the extra-curricular activity in which all 25,000 assiduously engaged—swapping.
"Boy Scout cheerfulness was put to the test this week by a downpour that lasted all Sunday night and half the next day turning much of the camp area into quagmire. Undismayed, 5,000 selected Scouts marched to a memorial service in the Arlington National Cemetery theater placed a wreath on the tomb of the Unknown Soldier. Governmental high spot of the jamboree came later this week with President Roosevelt's review. Instead of waiting while the 25,000 passed him, the President was to drive down Constitution Avenue, lined for two miles by cheering Boy Scouts."
Dan Beard, who was then 87 years old, lit the campfire which officially opened the Jamboree. Eighty-three Scouts and Leaders when to the 1937 National Jamboree from the Concho Valley Council. The seventy-three Scouts and ten leaders are as follows: