On Thursday, August 9, 2007, the City of Austin presented the "Distinguished Service Award" to 14 participants who were key players in bringing down Charles Whitman on the University of Texas Tower on August 1, 1966. One of those recipients was Houston McCoy, who is credited with bringing an end to the shooting by killing the former Marine sharpshooter that left 17 people dead and 31 wounded.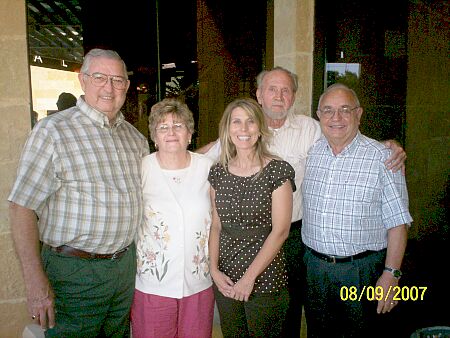 After a couple of years, following the shooting, Houston McCoy resigned from the Austin Police Department and became a flight instructor in Del Rio. On January 1, 1975, Houston McCoy went on the payroll of the Concho Valley Council as the Camp Ranger for Camp Sol Mayer. He worked for the Council for 12 years, until March, 1987.
Pictured in the photo to your left are Jack Moore, former Scout Executive, Ruth McCoy, McCoy's ex-wife, Monika McCoy, his daughter, and Frank Hilton, former Program Director and Camp Director for Camp Sol Mayer, who were present for the presentation of the "Distinguish Service Award" to Houston McCoy in the Council Chambers of the City of Austin. Monika McCoy had recommended to the Austin City Council that they present the awards, some 41 years after the event.
On August 2, 2008, Travis County named one of their buildings the "Tower Heroes Building" in honor of the heroes of the UT Tower tragedy. The ceremony was held at the offices for Travis County Precinct 3 on Texas 71 West in Oak Hill, some 12 miles from the UT Tower. Their names, including Houston McCoy, are on a plaque outside the building.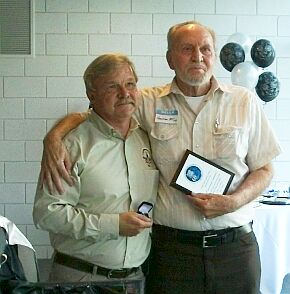 Honorary Membership
in
Austin Police Association
A plaque and pin, representing Honorary Membership in the Austin Police Association, were bestowed upon Houston McCoy, was given to him by the Austin Police Association President Sgt. Wayne Vincent. A plaque and pin were given to each of the first responders to the tragedy at the University of Texas during the Austin Police Association's 60th Anniversary Celebration party on May 7, 2009. The event was held in the Elk's Lodge with many past and present police officers present. Pictured to the left are Sgt. Wayne Vincent and Houston McCoy.